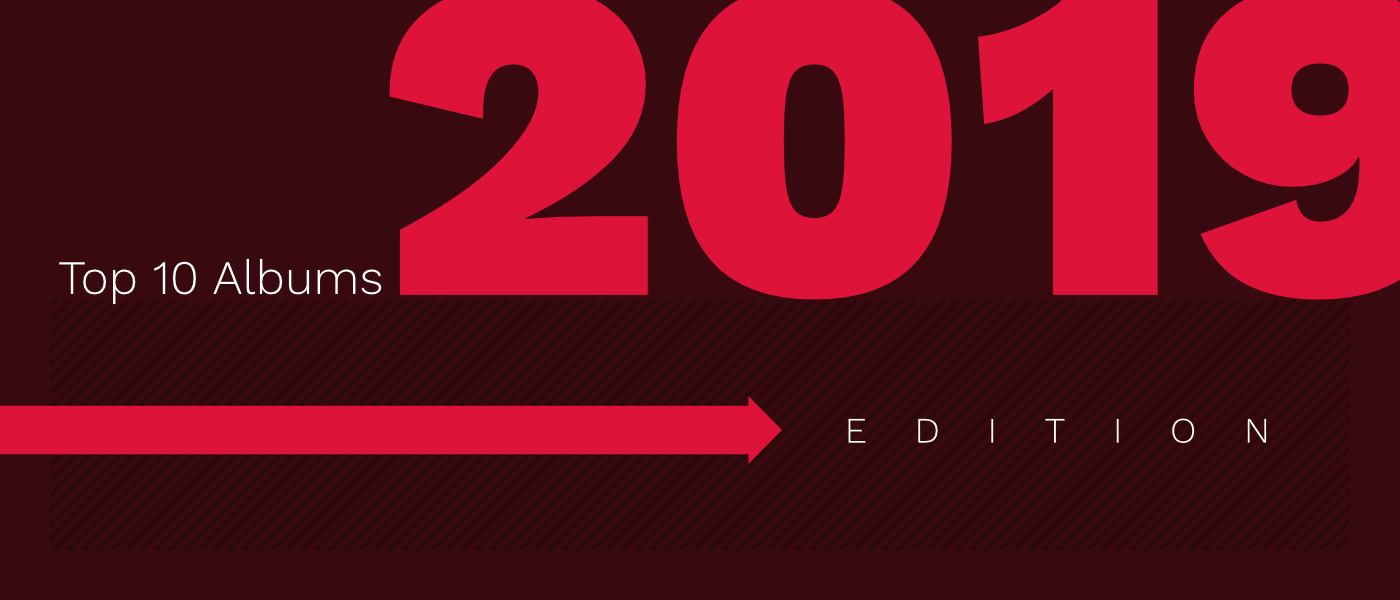 There were quite a few releases that caught my attention this year. Whereas last year I wasn't able to put together 10 albums that I loved, this year I really had to make some hard decisions to cut it down to 10.
Looking at the releases that caught my ear, I definitely see a thread of post-rock running through the choices. One or two might be a pure nostalgia trip, but the vast majority are albums that are a product of this moment in music. They draw from the past, then infuse those sounds with a very modern flair that references a broader spectrum of contemporary music.
With one exception (I Hate My Village's self-titled debut), all of these records are sophomore efforts or even mid-to-late career releases. I could chalk that up to recommendation engines serving up more of what I've already enjoyed, or maybe there's another factor. Regardless, I'd say each of these releases is a strong evolution or maturation of an established sound.
I've heard Ex Hex described as the best arena rock that's meant to be played in a garage. I certainly can't top that description, and this record really delivered on that sound. Each track has a full, round sound with a clarity often absent for smaller independent releases. Despite the sound, it lacks the pretentious and ostentatious musicianship from the era of the rock gods.
FIDLAR – Almost Free
It's hard to call this a "mature" record—this is still FIDLAR after all—themes of getting older pervade. While the first track is a pretty weak Beastie Boys impression, the rest is just fun punk rock 'n' roll. Nothing earth-shattering, but good stuff.
Foals – Everything Not Saved Will Be Lost Part 1
I have to admit that I arrived pretty late to the Foals party. A few years ago, a friend dumped three or four of their albums on me. Therefore I experienced Foals out of order, with no baggage. I was immediately smitten with Antidotes in its entirety. While I was less enthused with the more recent albums, that I still have a soft spot for the band. Everything…Part 1, while certainly not in the same bucket as Antidotes, feels like it has some of that original DNA to me.
I Hate My Village – s/t
If you listen to one album from this list, I hope it's this record. I stumbled on this band randomly and become immediately fixated. How often do you chance upon an Italian band playing electro-infused post-rock weirdness steeped with African rhythms? You wouldn't think that it would work but it absolutely does it rips. And they have a song called, "Tony Hawk of Ghana," so that's immediately awesome.
I really liked their last release, and this just sounds like more of the same. Same-y in a good way.
It's possible that I'm the only hipster that slept on the first PRIESTS album. As much as I love a lot of the post-punk bands they are referencing, the first record felt toothless. It was like someone had taken a bunch of tracks by the great UK post-punk band and ran it through a machine to grind off the edges, then re-recorded it. I gave them a second shot with this record and it's much better. I often find sophomore release to be more subdued, but I'm thrilled to say that's not the case here.
Sleater-Kinney – The Center Won't Hold
There are no bounds to my passion for No Cities To Love, so I had high hopes going into this record. Hopes stayed high as the first couple singles were released, but in truth this never reaches the high mark of Sleater-Kinney's previous effort. It is, however, still a very good record that I listened to quite a few times this year.
When Sneaks's previous album came out a couple of years ago, I was really impressed and eager for more. I'm glad that the wait was worth it. It's the same basement tape weirdness, but with a bit more production and an ounce more polish.
Le Butcherettes – bi/MENTAL
Raw and loud, this album isn't without its tender moments. It rarely slows down, but that's really the appeal and from start to finish, it's a good one. There are some cameos from punk luminaries as well, which are worth checking out.
Just straight-forward old school hard rock and/or metal. This wouldn't be totally out of place had it been released in '74.
Honorable Mentions and Late Entries
Off With Their Heads – Be Good. Fun album, but not really different from their well-trod formula.
The Black Keys – Let's Rock. As much as I like The Black Keys, this seems like a collection of B-material.
Wolfmother – Rock'n'roll Baby. I missed this one when it came out, so I'm just starting to listen now. But I really like it.
I.K. Dairo – The Best of I.K. Dairo. It's kind of lame to include "best of's" on a list like this, but I'm enjoying this collection.
Post script
Boy howdy is this post late. I originally wrapped up this post in early January, but I got sidetracked in a quagmire of tool issues. I stopped paying for the Adobe suite a while ago, and I used this post as the motivation to finally arrive at replacements. Of course, that was a horrible idea as I ended up testing a bunch of applications that just weren't ready for real use. In the end, I found an app that's working (not sure yet if I'm totally sold on it), but did the job and I was able to create a header image. Three months late. Oh well.