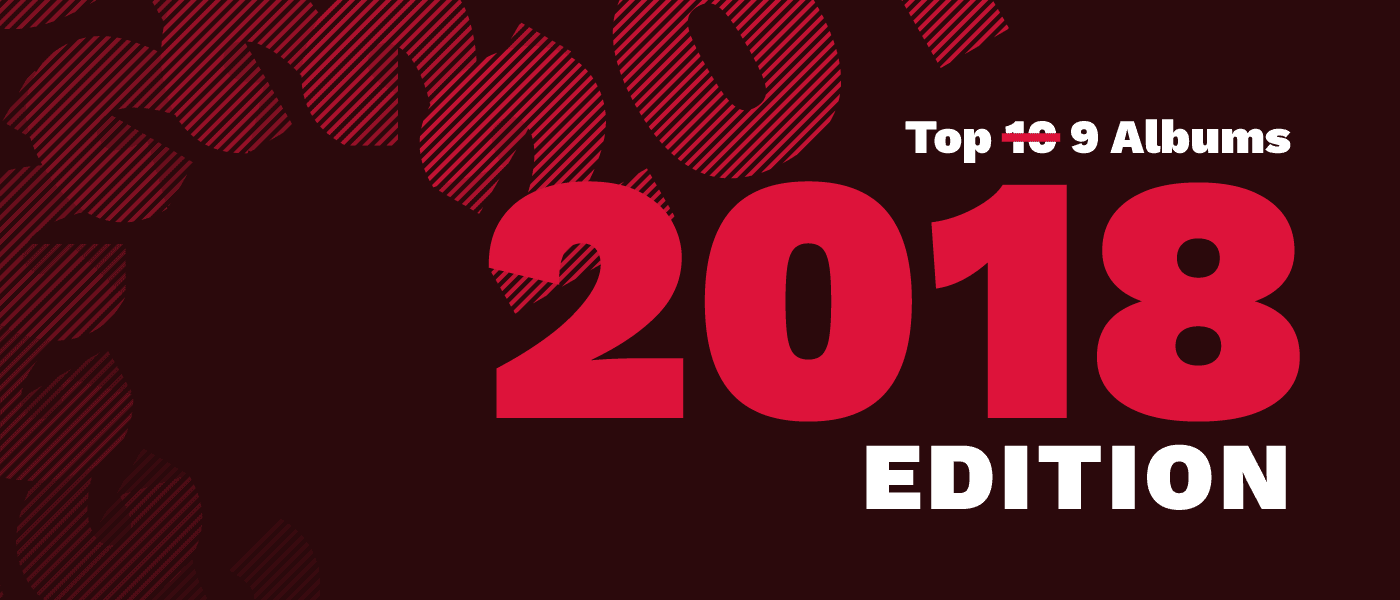 Life definitely caught up with me this year. I spent very little time with headphones on, but I was super busy with work and raising a child. As a result I missed a lot of the music that came out. Looking at this list, I don't even feel completely thrilled some of these releases (heck, I was only feeling good about 9 albums total). They just happen to be the top of a very short stack. Not to say that they aren't worth listening to if you missed them, but I was hoping for a few more albums that really grabbed my attention and wouldn't let go.
Bass Drum of Death - Just Business
Real fun album. They're not reinventing the wheel here, but if you like BDOD's brand of straight-ahead garage rock, you'll be pleased with this one.
How much material can these dudes put out? The volume and quality are just staggering. They put out 4, 10 song EPs this year alone, following last year's fantastic release of Inside the Skull. I can't say that I've scrutinized all of these EPs enough to recommend certain ones over others, but definitely give them a listen and pick them up if you're into heavy-ish stoner metal.
This release snuck in under the radar, and to me it's really an album of contrasts. While not a huge departure for Cloud Nothings, the whole effort seems tighter but with a bit more looseness in song structure. It's fast and loud, but with some quiet and space creeping in. It's really an evolution of the sound that Dylan Baldi has been cranking out over the years.
Gorillaz - The Now Now
Neither Gorillaz nor this album need much of an introduction. At first this album felt like the off-album slump that Gorillaz typically put out (e.g., G-Sides, The Fall), but after a few listens the track Tranz hooked me. The rest of the album started to grow on me after and it's definitely solid—even if it starts to taper off towards the end.
Another consistently weird offering from Guerilla Toss, but still quite good. GT Ultra was definitely a bit weirder (in a good way), but I still recommend this one for fans. It's also probably a good intro point for the band as well, being less dissonant than some of their other offerings.
I haven't been a huge Hot Snakes fan historically, but this one is a ripper. Unrelenting from start to finish and solid quality throughout.
Santigold - I Don't Want: The Goldfire Sessions
Quite uncharacteristic for Santigold, I Don't Want follows right on the heels of last year's 99 Cents. It's not as lyrically haunting as the previous record, but I still quite enjoy it.
Ursa was a recommendation from a co-worker, and it's a good one at that. The tracks can be a bit long (topping out at 10 minutes 16 seconds), but what a stellar release Abyss… is. Heavy, but in a way that's laden with texture. There's just such a sense of gravity and restrained energy throughout that is unleashed at the perfect moment.
Viagra Boys - Street Worms
If you can't tell from the name and album title, these guys just ooze punk attitude and delight in a contrarian position. I first heard their track Sports, which borders on novelty track, but remains fun nonetheless. Raspy vocals aside, it's not overly punky in presentation, the record leans more heavily on post-punk and dance rhythms. I'm interested to see where this band goes.
Recent misses on heavy rotation
I might not have founds much new music this year, but I did listen to a bunch of albums that I had just missed by a year or two. A few flew under the radar, so I figure maybe others could benefit from their attention as well.
Cowtown - Paranormal Romance
Unrelenting, up-beat punk jams.
Hüsker Dü - Savage Young Dü
Not the most fun listen start-to-finish, but such an interesting artifact of the evolution of a band.
Meridian Brothers - ¿Dónde Estás Maria?
This one is a bit of an outlier, but really great if you're interested in contemporary Latin indy music.
Shopping - The Official Body
Barely missed this release from last year, but I listened to it a ton. Great indy electro release.
Sneaks - It's A Myth
Another awesome indy electro jam, but far more low-fi. I'm really interesting to see where Sneaks goes with her 2019 release.
Uranium Club - Human Exploration
First track is called Black Semen. You get the idea.
The wrap-up
I'm tempted to say that 2018 wasn't the best year for music, but I think that's just me personally. It was definitely a year of broadened horizons for me, which is true of most years but I would say that the net was cast far wider than previous years. I spent a good bit of the year listening to African music, Afrobeat, and hip hop. I scoured some of the depths of post-punk, indy rock, and other releases that came out when my attentions were originally focused elsewhere. And to be honest, I spent a lot of time just spinning tracks from bands that I've loved for twenty years or more. If I had to guess, I think this coming year will be pretty similar. With any luck, I'll be able to spend more time listening though, and look forward to discovering more gems.