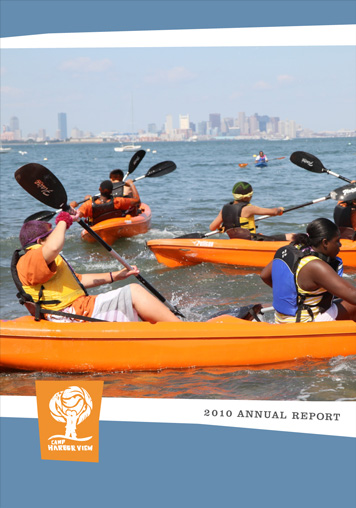 Camp Harbor View is located on Long Island (in the Boston Harbor Islands), and provides a safe place for area urban youth to get away from the city and enjoy the summer. The camp was started several years ago as a joint project of The Connors Family Office and Mayor Thomas Menino.
The annual report is their main piece of printed marketing, and is widely distributed. Our design captures the fun spirit of the event, without pandering and being "kiddy". After several different concepts were pitched to The Connors Family Office, we settled on a direction that uses the camp's bold orange color, as well as a complimentary palette. The type contrasts both lightheartedness as well as a more refined approach, reflecting the camp's attendees and seriousness of the mission. Finally, the design features far more photography of the previous year's activities of the camp than it does graphs and financial statistics, since it is the kids and the impact that the camp has on their lives which remains the true focus of the report.
Done at Roycroft Design.
Published by: Ira F. Cummings in Tangents