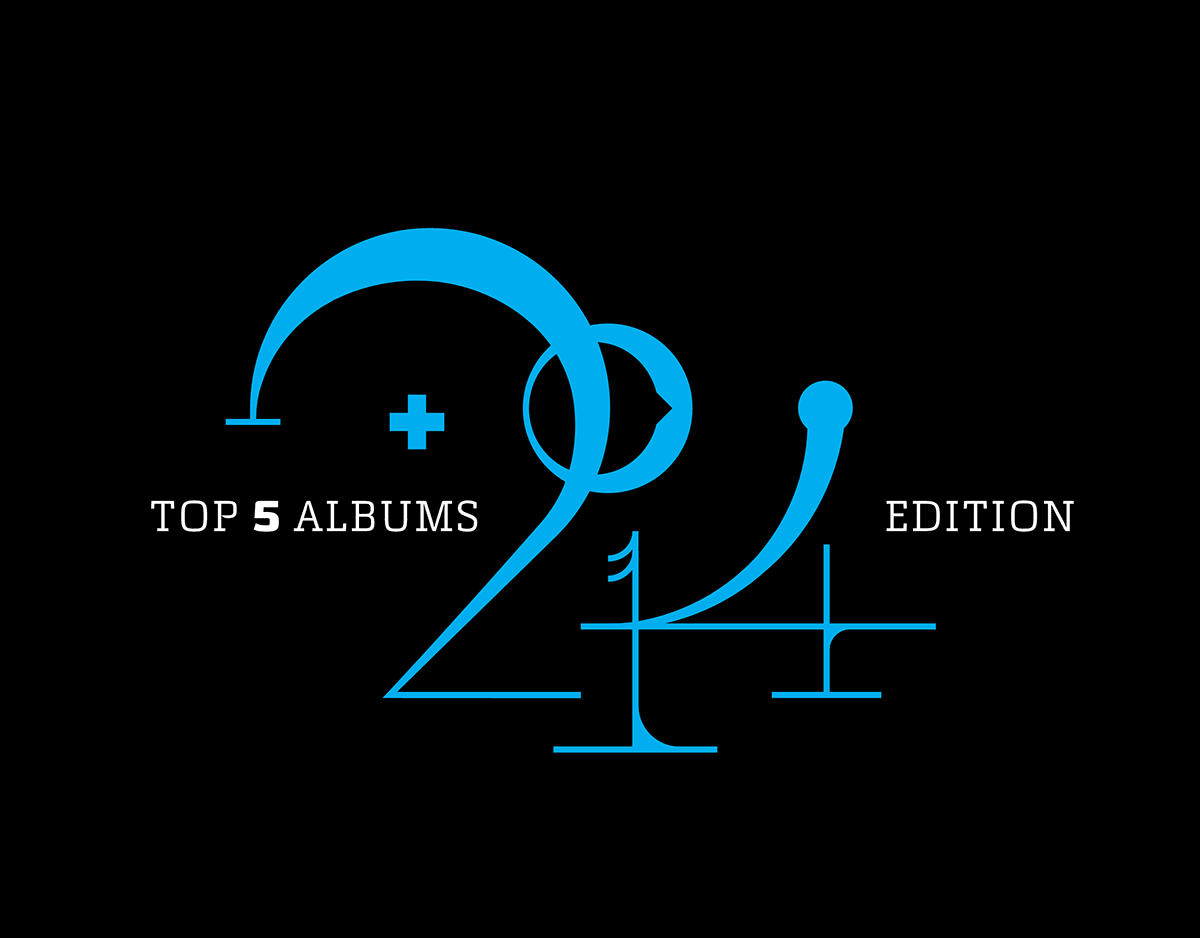 It's always interesting to look back at the music that I listened to in the past twelve months what overlaps stand out. As you might imagine, my choices aren't premeditated, but often follow some similar patterns. Indeed some things never change: lots of pretty loud, pretty fast, and slightly experimental music.
2014 was definitely a year for straight-up Rock 'n' Roll. Despite rumors of its death, the genre saw several releases come out this past year that felt really alive and interesting. They combined some of the best references to the past, with some new licks and new tricks; something that rock has always done really well. Most importantly, artists keep exploring the boundaries of the rock sound.
One major connection through most of my picks is this strong connection—and reference to—musical history. In all cases, however, it doesn't manifest in nostalgia, but really a celebration tempered by recontextualization. Taking that one element that was successful for another artist or prevalent at another time, and recycling it to work in a current context.
As in previous years, most of these albums are pretty loud, but I didn't really hit on anything particularly heavy that I fell in love with this year. For whatever reason, I didn't listen to much metal over the past year or so. The tempo stayed high though while the running time stayed short, with the average song length clocking in around the 2:45 mark.
The final interesting thing to note: all of these records are releases by relatively seasoned artists. It's harder to find those amazing début artists, but I'm having trouble recalling a new artist that really grabbed my attention this year.
With all that perspective, let's kick off the list of this year's hits with my absolute favorite:
tUnE-yArDs - nikki nack
As infatuated as I was their previous record, W H O K I L L, I'm really entranced by this record. Indeed, it is more polished, more heavily layered, and the end I think more enduring release. The loops and quirky lyrics are still there, but gone is the hipster ukulele and the super low-fi approach. Instead the band has grown both in number and aural range to create a more robust sound, adding in more of a Caribbean flavor to its African beats. It's a bigger album in all respects than previous effort, but thankfully it feels like an evolution instead of a departure.
Parquet Courts - Sunbathing Animal
Few bands of recent memory have grown in reputation so quickly as Parquet Courts. Taking the usual trappings of a garage band, they've really refined it the sound to a smoothly running machine that churns out catchy track after catchy track. They'll lure you in with stupid lyrics and hand claps, then the next verse drop pure poetry wrapped in a wall of sonic feedback static. A more magical recipe for success I can't imagine.
Death From Above 1979 - The Physical World
I couldn't be happier that DFA1979 didn't fall into the pit of other "One Hit Wonders", but instead of returned from their hiatus with a really killer album. It's still really loud and really fast, but sandpaper to the eardrums feeling has abated somewhat. Even though I loved that with their first album, I really don't miss it here. In its place is songwriting that has stepped up a couple notches. Sure, there's still the lyrics celebrating the fast life, but there's also a real attempt at narrative storytelling, such as on the track, "White is red."
Ex Hex - Rips
With an album title like that, it's not easy to avoid cliché descriptors, but this really is a tight collection of songs. While I haven't read any discussion of this band without the mention of their front woman Mary Timony, I can't help but feel that she's just one of the strong creative forces behind these tracks. Blending super catchy choruses with an unrelenting pace, it's hard not to tap your foot and bounce your head from start to finish.
Jack White - Lazaretto
To be totally honest, this last spot was a tie for a while between Lazaretto, Ty Segall's Manipulator, and Bass Drum of Death's Rip This. What tipped the scales was ultimately the feeling that I get while listening to this album: it's just plain fun. I think Jack White has written better songs, and I enjoyed Blunderbuss a bit more, but what is really on display here is his virtuosity. He jumps from traditional Blues licks to hard rock, from folk to country and everything in between. In the end, it feels like he's just playing for himself and letting us all hang out and listen, which it turns out is a really good time.
Wrap-up
That puts a bow on it for 2014. If you haven't listened to any of these tunes before, check out the full playlist of everything below. And by all means, if there's something that I should've checked out (and loved) in 2014, drop a line on Twitter and let me know.
[Rdio playlist is dead. RIP Rdio]
Related
Published by: Ira F. Cummings in Blog